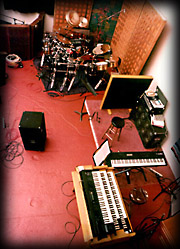 Recent clients include Steuart Smith (the Eagles), Steve Earle, Stewart Lerman, filmmaker Martin Scorsese, Franz Nicolay (The Hold Steady), T-Bone Wolk, Dead Confederate, Steve Holley, Loudon Wainwright, Marshall Crenshaw, Missles and Markers and Lucy Wainwright.
The North Room has a history all its own. It is where Eli Janney (Girls Vs. Boys) produced Brainiac. Chavez, the explosive NYC indie rock band, recorded here, as well as Warren Haynes (Allman Brothers Band, Gov't Mule, the Dead), John Popper (Blues Traveler), Edwin McCain, Derek Trucks, Sarah Lee Guthrie and Kevn Kinney, who did two solo albums in the North Room.
The North Room front end is a newly recapped, original 1978 API 1604 console with 550A, 550B and 560 graphic equalizers. This desk is rock solid. The discrete mic pres are everything you would expect. Monitoring and headphone mixes are accomplished via a Harrison 36 X 24 X 36.
The North Room is perfect for basic tracks or overdubs. Its high ceilings are the same as the Big Room; the oriental carpets and décor are warming and welcoming. A giant block glass window fills the studio with north light. It is bright, comfortable and humble. Musicians often comment that they feel more at home in the North Room than in the Big Room. Many producers and engineers prefer the drum sounds that they bring out of the North Room.